Titcomb's Bookshop is excited to offer personalized (name only) copies of Cozy in Love by Jan Brett (while supplies last). The first 10 books to be ordered will receive a free signed Jan Brett poster, so act fast!
Orders must be placed by September 30th, 2022 to receive a personalized copy. Inscribed books will arrive at our store the week of November 7, 2022 and we will notify you when they are ready for pick-up or mailing. We are happy to offer shipping (CONTINENTAL U.S. ONLY).
Order your copy below. If you would like your copy personalized (NAME ONLY), please include the name in the order comments at checkout. Otherwise, you will get a signed copy. If you would like to have your book gift wrapped (complimentary), you can select the gift wrap at check out as well! If you have any questions, please feel free to give us a call at 508-888-2331 or email us at orders@titcombsbookshop.com.
Orders cannot be accepted after 9/30/22 or until our order limit is reached.
We will notify you when your copy is available to be picked up or is shipped to you (This will be on or after November 8th).
ABOUT COZY IN LOVE
This lovable companion to Jan Brett's instant New York Times bestselling winter classic, Cozy, shows that kindness and cleverness can capture a heart. After losing a test of strength to another musk ox in his herd, Cozy is convinced he'll never impress his crush, Lofti. But while he's sulking, he learns of a bigger concern. His friend Bella, a beluga whale, is still playing in an inlet even though it's cold enough for ice to form and block her way out. Cozy races to the inlet and, sure enough, Bella is in trouble. Luckily, Cozy thinks of a new way to use his strong legs and tough horns that might help save Bella and win Lofti's heart as well. Jan Brett's newest story about this lovable character shows how helping your friends is always the right thing to do—no matter who is watching.
"Filled with descriptive candor and Brett's riveting, distinctive illustrative style, the kindhearted musk ox bull Cozy ­returns in this exciting companion story that proves how strength of heart is beloved by all. . . [Cozy's] quick-thinking and care for his friend [will impress] readers with the value of acting out of compassion without the ambition for attention. . . Awe-inspiring detail of the frigid Alaskan landscape and its creatures will enchant readers." —School Library Journal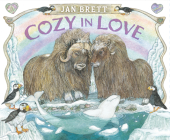 $19.99

ISBN: 9780593109854
Availability: Pre-order now. Click "DETAILS" below for publication date.
Published: G.P. Putnam's Sons Books for Young Readers - November 8th, 2022
---