Monday, May 29, 2023 -

2:00pm

to

3:00pm
Join us as we welcome Susan Sachs Levine to Titcomb's Bookshop to meet readers and sign copies of her children's book, Gilbert's Migration Vacation, about a migratory Cape Cod shorebird! Can't make it to the event but want a signed copy? Call us at 508-888-2331 or order below! You can pick the book up at the store or we can ship it to you!
ABOUT THE BOOK
How will Gilbert find his way south?
Gilbert is a Sanderling chick who hatched high in the Arctic tundra. Now, he must find his way south for the winter where warm weather and plentiful food await. Join Gilbert as he teams up with two other young Sanderlings to embark on an amazing journey of over 4,000 miles. The trip is not easy They must deal with hurricanes, hungry falcons, and confusing city lights. But as Gilbert helps his friends navigate each obstacle, he gains the skills and confidence he needs to succeed. Curious readers will learn all about shorebirds, their incredible migrations, and how we can help protect these fascinating birds.
ABOUT THE AUTHOR
Susan Sachs Levine grew up in Cincinnati, Ohio, and started her career in marketing with Procter & Gamble. She then moved to Columbus where she became vice president of marketing and environmental affairs with PKL, an international packaging company. Susan is a wildlife enthusiast and has traveled extensively to learn about the natural world, especially endangered species.
Always a lover of picture books, Susan identified the need for books about major Ohio cities when her children were young. Her first book, Packard Takes Flight: A Bird's-Eye View of Columbus, Ohio teaches students about Ohio's capital city. Harriett's Homecoming: A High-Flying Tour of Cincinnati, Ohio highlights all that is special about the Queen City. Both books are based on the true story of Peregrine falcons that nest on the tall buildings downtown.
Susan now lives in Naples, Florida, where she is enchanted by the wildlife, particularly the birds. She is a Florida Master Naturalist and is excited to share all she has learned with children through her recent new works. Jenny's First Catch: An Adventure with Nature's Wading Birds was published in 2020 and follows a young Roseate Spoonbill as she tries to learn how to fish with her unique bill. In Gilbert's Migration Vacation: The Story of an Original Snowbird, set to release in spring 2023, children learn about Sanderlings as well as other shorebirds, and the amazing migrations they make between their breeding and wintering grounds.
In all her books, Susan blends her interest in wildlife with her imaginative storytelling to entertain and teach young children, while being a great resource for teachers and parents.
Find out more at susanlevinebooks.com.
Event address:
Titcomb's Bookshop
432 Route 6A
Books: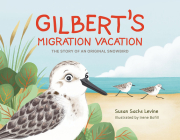 $21.95

ISBN: 9781637556337
Availability: Pre-order now. Click "DETAILS" below for publication date.
Published: Mascot Kids - July 11th, 2023
---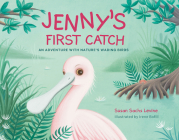 $19.95

ISBN: 9781645435600
Availability: Backordered. Contact us for more information.
Published: Mascot Books - November 3rd, 2020
---