What Does It Mean to Be Safe? (What Does It Mean to Be...?) (Hardcover)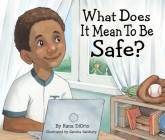 Description
---
As a young boy and his friends go on an outing to the local river and then return home, they look out for one another, resist peer pressure, and listen to their inner voices to know the right thing to do. Along the way, the boy discovers that each of us is the single best person to protect our precious self, and that there are so many things we can all do to be safe.
About the Author
---
Author Bio:

Rana DiOrio was born in Providence, RI and grew up in a colorful Italian-American family. Her curiosity about the world began in kindergarten, while studying Western access to China and, obviously, panda bears. As a political science major/psychology minor in college, and then as a law student, she became fascinated with understanding perspective, and how just about any person, place, thing, or situation can be interpreted in so many valid ways.

"I believe that I have two ears, two eyes and one mouth intentionally, so I listen and observe more than I talk," she explains. "As a result, I think I'm better able to respect and appreciate diversity." Rana's inspiration for writing "What Does It Mean To Be Global?" was the election of President Barack Obama and explaining its significance, on so many levels, to her children.

Rana has written her way through life-as a student, a lawyer, an investment banker, a private equity investor, and now as an author and publisher of children's picture books. Her interests include practicing yoga, reading non-fiction, dreaming, effecting positive change, and, of course, being global, green, and present. She lives in Tiburon, California with her three Little Pickles.

Illustrator Bio:

Sandra Salsbury grew up in the redwood forests of the Santa Cruz Mountains in California. She received her BFA and MFA in illustration from the Academy of Art University in San Francisco. As well as illustrating, Sandra teaches art classes and works at her local schools. When illustrating "What Does It Mean To Be Safe?," Sandra thought about the time when she felt safest--as a child running though the forest, morning, noon, and night. Being safe is not just about following rules, but also about being happy with who you are and the life you have. When she is not drawing, Sandra enjoys reading, hiking, cooking, and attempting to do yoga (with limited success). She still lives in the San Francisco Bay Area and often returns to the forests where she grew up in for hiking and picnics.